Recently I took my 8 year old daughter into the dentist to get four baby teeth pulled. She needed to get them pulled out per the advice of the Orthodontist. She needed to make room for her adult teeth. As I was driving to the dental office, she was nervous. When we get to the dentist, she is squirming in her seat, asking the Oral Surgeon all kinds of questions, questions of value and he just gets more and more impatient with her, ignores her questions and tells her she needs to cooperate with him. He ends up taking off his gloves and says he isn't going to go through with the procedure. She's crying, I am upset and angry at him. We leave. I tell her that none of this is her fault. Why? If it had been me in the dental chair, asking him questions, he would never had treated me that way, he would have answered my questions and would have been polite. That night, as I lay in bed, I prayed. I asked God to show me what I should do. I saw my daughter in the dentist chair. I thought how would I have reacted? I would have reacted the same way, in fear. I too would not have allowed that man to pull my teeth. So I realized that my daughter was an innocent victim and was never going to allow anyone to pull her teeth and I don't blame her one bit.
I began to wonder about the things we do to our children that are completely unnecessary, even harmful to them. We can justify the things we do to them by saying, it is in their best interest, it is good for them, I am protecting them, they are just kids, they need to get strong, grow up, learn about the world, etc.
But are we truly doing what is best for them? Are all these things really good for them?
I am going to explore a few topics that adults do to children that may seem innocent, but in reality, it is harmful.
1. The first is unnecessary medical treatments.

My daughter that I mentioned above has had her adenoids out when she was 2. She was prone to frequent colds and ear infections and the surgeon said that her adenoids were too big. He also put tubes in her ears. She then got her tonsils out at age 7, by the same doctor because she had Sleep Apnea. The same age, I noticed that she couldn't hear very well and she had a lot of earwax. I took her into a
Otolaryngologist
who ended up strapping my daughter to a papoose board to get her to hold still. One of the tubes in her ear was turned the wrong way, which was causing a big build up of wax. He needed to get her to hold still and since was terrified and screaming, the nurses and the doctor strapped her to the board.
So the night of the incident with the dentist, I am lying down in my bed, praying. I thought back to all the things that she has had done to her by doctors, I realized that she doesn't like doctors and wow! It's no wonder!
I recently read an article by Roberta Baskin. She spoke about how dentist are profiting by abusing children. They are doing unnecessary medical treatments to children for profit, like root canals. The parents are not allowed in the back with their children and they are not realizing the horrible things these doctors are doing to their kids. I was never allowed in the back of the room when my daughter had her adenoids out or tonsils. When my daughter got her tonsils out, she told me she felt like they were choking her and they just told her to be quiet.
I am quite certain that it isn't just dentist that are profiting from unnecessary treatments, but doctors as well. I mean, clearly getting my daughters tonsils out was a good thing for her, but was getting her adenoids taken out at age 2 necessary? And why did this "specialist" that we hired not notice her large tonsils and take them out at the same time as the adenoids? How much pain would she have been spared and how much money would we have saved if he had removed the adenoids and tonsils at the same time?

Here is the news video with Roberta Baskin:

2. Lies
We tell our children lies. A few of the reasons we lie to them are to protect, keep their innocence, to shelter, to show authority and to keep peace.
We want to keep a happy, warm environment for our kids. The world is a big and scary place and we want to protect them at an early age so they won't grow up fearful. Most of us fill our homes we laughter, music and fun. We create imaginary characters, such as Santa, the Easter Bunny, and the Tooth Fairy. We praise them and we praise them again and again, telling them constantly how wonderful they are, they can do no wrong and we tell everyone we know that your kid is the smartest kid in the city, our cars even tell the world how smart your child is. If a tragic event happens in the world, we don't allow our kids to know about it or we tell them everything is okay, just a few people died. We even shelter them from the wrong we do so that they will continue to look up to us.
Praising a child over and over sets them up for failure. The reason is that if a child is overly praised, he or she can't handle anyone that doesn't treat them the way their parents treat them. Their self-esteem is so high that when they get out into the real world and realize, not everyone thinks of them in the way their parents do, it makes these kids upset and they react inappropriately.

A study published in 2007 by researches from Columbia and Stanford University

f

ound that frequently-praised kids eventually came to believe that intelligence and talent were things they were born with, things which under no possible circumstances could be improved. Consequently, they avoided academic situations that presented any kind of challenge and refused to see the value in any activity that required effort, because if they were so freaking amazing, nothing worth doing should be hard, right? As a result, their grades dropped and they developed motivation and, ironically, self-esteem issues. So the lesson here is, make your kid realize the value of hard work and honest effort before they self-tan themselves orange and pop their collars. By then, it will be too late.
Parents don't want their kids to see their flaws. So a parent that has an affair doesn't want their child to know about the affair, so he lies to their kids about his whereabouts. He also teaches his child about right and wrong and to be nice and respectful of their mother, but in reality, the parent clearly is not doing the same. Parents can be the biggest hypocrites.
3. Teaching kids about strangers
At a recent trip to the fair, my youngest daughter got upset, gave me an attitude and walked away from me to the other side of the ride. I went over to her and told her that she needed to stay with me because there could be a child molester watching her and would love to grab her. She asked me what that was and I told her. She didn't leave my side for the rest of the day.

We are constantly telling our kids to not talk to strangers, to stay where we can see them. We teach them about strangers and how to react if one approaches. We must know where they are at all times of the day and we get very upset if we can't locate them for a minute because oh no, what if they got kidnapped?
We hear on the news about kidnappings that happen and it makes us fearful for our kids safety. According to CNN, stranger kidnappings actually make up for less than 1% of all kidnapping incidents. Which means the majority of kidnappings, the child knows the person and they feel initially safe. My brother once told me, "Nobody wants your rotten kids!" Sounds like a mean thing to say? Well maybe, but it is probably true.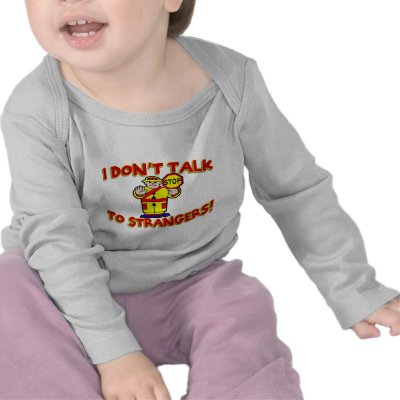 Teaching your child not to talk to strangers only leads to confusion when they see us talking to strangers and we do talk to strangers quite often. How can we go about our day not? I remember several incidents that my children watched me talk to a stranger and they asked me "why are you talking to them, do you know them?" and I would answer no. So I am teaching my kids not to talk to strangers, yet they see me do it all the time?
We are creating fear into our children and turning them into Xenophobe's. We are teaching them to freak out at anything out of the ordinary and when they grow up; they lock their car doors when they pull up to a man standing outside holding up a "please help" sign.
4. Too many activities
Kids are often bombarded by too many activities. They go to school for 6 hours. They have piano lessons, sports, clubs, homework and they are going to bed way too late and are waking up exhausted. I've heard kids say they are only playing sports because it makes their parents happy, they are only taking lessons for their parents. They say that they are tired and would rather hang out with friends.
Kids need time to be kids.
While structured activities can be beneficial for kids, age should determine the amount of time a child should be engaged in a class or sport. Kids from 1 to 5 years old only have the attention span for 30 minutes of activity at a time. Kid's ages 5 to 8 are better suited for participating in competitive sports or games, and they may be able to handle several lessons or activities in a week. A regular extracurricular activity is recommended for kids 8 and older so they learn discipline and teamwork.
Talk with your kids and ask them if they are happy or if they want to make changes and be okay with their answer.
5. Making them start school at a very young age before they are ready.
Do you know that the recommended age to start sending your kids to school is six? But you can actually send them to school at a much younger age, even 3 year olds?
Researchers say sending kids to school before they've developed even the basic little-kid skills of a six-year-old can cause them to suffer from anxiety attacks and develop low self-esteem issues, giving them a bad attitude about the whole "going to school" thing that follows them throughout their education.

Parents will use the excuse that they want little Johnny to excel, to be smarter than his peers, to get an early start because it is a dog eat dog world. Or they will say that they want their child to be social with the other kids. Or I just want me time.
Here is a link to tell if your child is ready to start school or not:
http://www.schoolatoz.nsw.edu.au/wellbeing/development/is-my-child-ready-to-start-school
"Let your children go if you want to keep them.
If you have never been hated by your child, you have never been a parent.
My mother protected me from the world and my father threatened me with it.
No matter how calmly you try to referee, parenting will eventually produce bizarre behavior, and I'm not talking about the kids. Their behavior is always normal.
The most important thing that parents can teach their children is how to get along without them.
I don't know any parents that look into the eyes of a newborn baby and say, How can we screw this kid up.
There are no illegitimate children, only illegitimate parents.
The thing that impresses me most about America is the way parents obey their children.
If you want a baby, have a new one. Don't baby the old one.
The greatest gifts you can give your children are the roots of responsibility and the wings of independence."
Right!